…is a Sustainable Jobs Plan
As the demand for health and social services rise with our aging population, the job market shrinks; cuts to entitlement programs and privatization have and will continue to take a toll on the lives of many.  PHIERS.org will facilitate recruitment, training, job matching and placement services for health/social workers, mental health professionals, educators, counselors and other allied health and social professionals. This training is available free of charge for both community-based and nonprofit organizations who work in partnership with local safety net programs.
PHIERworks will track encounters and outcomes, compute cost-benefits, and give performance-based incentives to specially-trained workers, advocacy programs, and facilities which use PHIERS to coordinate care and transportation for patients living with complex health and social issues. Data suggests that, by coordinating care for these high-risk patients, more than enough savings will be generated to create sustainable jobs, where they're needed most. We will screen and sponsor the placement of front-line health and social workers, trained to use VistA, to offer the greatest value to local safety net programs, community organizations, and small business owners with social missions.

Our primary goal is to create jobs which promote the adoption of VistA by public health and social safety net programs across the nation. We chose this electronic health record because it currently used by:

More than 60% of doctors and millions of allied health service providers.
More than 1200 hospitals, clinics, nursing homes and community organizations.
The World Health Organization (WHO) and a growing number of academic researchers combating infectious and chronic diseases worldwide.
This program matters, since CMS[1], VA[2] and HHS[3] are currently paying billions of dollars to combat global public health threats, such as diabetes, heart disease, Alzheimer's, and hepatitis. Through the services we offer and the support we will provide, specially-trained PHIERmen/women will be able to screen, collaborate with one another, and proactively respond to outbreaks as a single unit with a single mission; this will enable them to provide additional capacity and/or support whenever, or wherever, more assistance, relief, or aid as needed.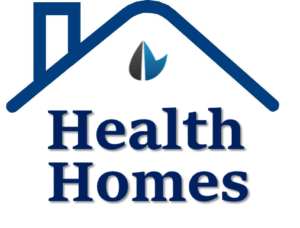 By training and compensating front-line health and social workers (and participating PHIERStations and associated caregivers) for using the same health information service that the VA uses to care for millions of veterans across the nation, we can effectively improve the quality and continuity of care associated with high risk, high need patients across the nation, all with little additional effort.  
As previously mentioned, this program will enable un(der)-employed, untapped resources to perform meaningful work helping high need patient get better outcomes for lower costs than they presently receive. This will generate enough savings to cover the cost of the job performed within 3 – 6 months' time. This solution will also help in addressing the VA's backlog issues by connecting veterans to local resources, which will be standing by to fill the unmet needs of members within local communities, all using the PHIER-powered, patient-centered, care team model.

What's in it for PHIERStations?  Eligibility for performance-based grants and access to training and staffing support, tailored resources and referrals.  These benefits will be made readily available for:

Safety net programs, facilities, and organizations
Community and Faith-Based organizations
Advocacy Programs and Professional Associations
Data suggests that this program will save more than enough to pay fair wages to both skilled and unskilled laborers who participate in our job training and placement programs. They will have the ability to provide services to patients or assist PHIERStations' migration from isolated record keeping systems to a shared one (i.e. the PHIERSafe).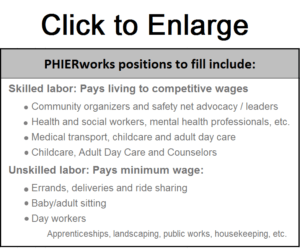 This plan will improve the quality and continuity of care and medical outcomes while improving adherence to care plans and eliminating data silos, reducing the likelihood of fragmented care. The larger the pool of providers, safety net programs, and "beneficiaries" (members) who are involved, the greater the savings and the membership rewards.   
As more community-based organizations join our movement, we will provide them with the training and technical support services (for the PHIERS service suite) to assist them in delivering and tracking their impact on the lives of those they serve…all while computing cost-benefits accrued over time and further incentivizing, even more organizations to join the cause.  
This approach will also generate "minimum wage jobs" for unskilled laborers, and "living-to-competitive wage" positions for higher skilled employees.  These jobs can provide services to patients, or assist PHIERStations in caring for those they serve.  The quality of care transitions and patient adherence to care plans will improve as the likelihood of costly complications, ER visits and readmissions are all reduced.
Caring for dual eligibles (and veterans) will generate more

than enough savings to create 

millions of meaningful jobs

 in a timely and sustainable manner

.
These jobs will promote the adoption of VistA across the board for public health safety net organizations, who will also have access to the full suite of PHIERS services and benefits.

The PHIERworks training plan

 can and will be custom-tailored to address local needs, by working in partnership with safety net/community organizations and elected leaders.  As the program gains momentum, its advantages will be felt across the nation and its benefits felt by

all

segments of society

.
---
Chronic Conditions Overview, Centers for Medicare & Medicaid Services, (2017), from https://www.cms.gov/Research-Statistics-Data-and-Systems/Statistics-Trends-and-Reports/Chronic-Conditions/
Chronic Disease Self- Management Workshops offered at the VA, U.S. Dept. of Veterans Affairs, (2012), from http://www.fargo.va.gov/FARGO/features/Living_Well.asp
HHS Initiative on Multiple Chronic Conditions, U.S. Dept. of Health and Human Services, (2015), http://www.hhs.gov/ash/about-ash/multiple-chronic-conditions/index.html