A PHIERStation is a community-based organization that uses the PHIERS suite of products and services to improve the health and well-being of the local community.  It is a broad term encompassing a wide range of public and social buildings/institutions, including, but not limited to: schools, community or safety net facilities, health clinics, shelters, veterans homes, or senior/community centers.
Benefits include:
Specially trained "PHIERmen/women" to help them improve the health status of their members/communities

Free tools, training, resources, and support from PHIERStaff (our 24/7 support team) 

Certified Health Ambassadors to assist them in migrating from a standalone data silo environment to a shared case management system

PHIERSale Discounts and membership rewards

PHIERworks performance-based grants and incentives for participation

Free marketing services and referrals via PHIERplace 

And much, much more…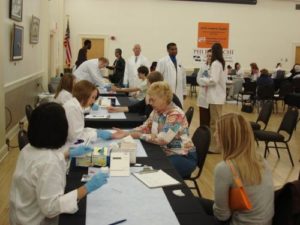 Through PHIERStations, community members and patients can take advantage of local benefits, or use the resource matching services to guide them to the appropriate programs, goods and services offered by other providers, who may be located locally or in a neighboring community, safety net region, or state. In this way, our program can address the needs of the whole person (mind, body, and spirit), based on the availability of resources. Our software can be easily tailored to fit the needs (and leverage the resources) of each participating safety net region/community per their own unique requirements. Whenever possible, we will help our member organizations personalize and tailor each care plan to focus on the specifics of each individual patient, to provide the most accurate and relevant options in a timely and convenient manner.


Coming soon: PHIER-powered community-wide interventions; Virtual Health Fairs (VHF) with valuable opportunities for collaboration between various doctors and researchers from leading fields, focused on improving population health.  These are just a few of the benefits that PHIERStations have to offer, and many more will be introduced as more individuals register, and new organizations, with specific value(s) to offer, join our cooperative; in this way, they provide their service for everybody in the network, while reaping the rewards of the services provided by everyone who is already a part of PHIERS.