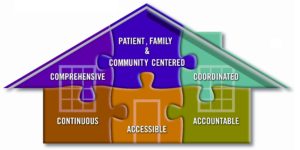 The Public Health Information Exchange & Referral Service (PHIERS, pronounced "fires") is a public benefit corporation/cooperative business model committed to strengthening and expanding the safety net, so it can stay abreast of rising demand as the population ages, and as systemic inequality takes its toll.  
PHIERS combines people, processes, purchasing and public health into a sustainable plan, which will create jobs to concurrently reduce healthcare costs and improve outcomes.    
Our mission is to create self-sustaining jobs by helping high-need, high-risk patients better adhere to care plans. It is our goal to train un(der) employed health and social workers to use an existing health information "service" (VistA); this  technology is already in use  by more than 1200 hospitals, clinics, and nursing homes across the nation, and is used to help manage care for more than 8 million U.S. veterans with complex health and social issues.
We work in solidarity with public health and hospital systems

 to strengthen the safety net, leveraging the strength of local communities to help in fulfilling unmet health, mental and social needs

.
We will train job seekers to use a shared case management and health information service 

to coordinate care and transportation for high-need, high-cost patients – potentially saving millions.

By working in solidarity with pharmaceutical and health insurance co-ops, we can utilize the free market to help our members get lower prices for healthcare-related goods and services.
Savings directly attributed to this project can cover operating costs, after the first year of operation – making this a sustainable job creation and savings program, while protecting the public's interest. We will accomplish these goals while increasing the solvency of Medicare, Medicaid and Social Security.
Click HERE to learn about our upcoming pilot project, and the challenges we will overcome.
Using PHIERS to coordinate care and transportation, participants can generate enough savings to cover the cost of meaningful jobs which will have a positive impact on public, health-based initiatives.  This will reduce both the cost and need of critical services, and enable this program to be 100% self-sustaining, after only one year of operation.
In a nutshell, PHIERS is a catalyst for positive change.  Once the PHIER is ignited – after we have launched – we will provide tools, training, resources and support to help health workers, patient advocates, and other members of "patient-centered care teams" better coordinate care, across separately functioning organizations; PHIERS is simply the intelligent glue, allowing all of the resources provided by partners in our collaborative to be easily and readily accessed by care-teams within our network.  
This strategy will accelerate the adoption of Health/IT among vulnerable populations, while providing patients with low cost medical homes.   When it comes to effectively and humanely caring for members of our society, this model and solution will stretch far beyond clinicians, as it facilitates the inclusion of community outreach programs, as well as, public health and social safety net programs.